Safety

In a biomass energy facility safety is everyone's responsibility but employers must provide the appropriate means for employees to act safely. It is generally standard practice to require a business to have health and safety plans and mechanisms for ensuring that these are appropriate for the relevant aspects of the business. The biomass energy sector takes safety seriously and Bioenergy Association expects members to have best practice safety practices and requires Accredited Wood Fuel Suppliers to have demonstrated this to a third party audit. It is good practice to have written health and safety documents. Organisations must provide appropriate training and information for workers so that they can work safely.
In New Zealand the Health and Safety at Work Act 2015, requires that as a Person Conducting a Business or Undertaking (PCBU), the employer has a 'duty' to look after the health and safety of all persons at their workplace including all workers, contractors, sub-contractors, labour hire, apprentices, trainees, volunteers, visitors and customers.
Biomass collection and delivery
When sourcing biomass from plantation harvest residues or from agriculture sites it is critical that it is done safely. An aggregator of biomass from forest or farm often requires entry to potentially hazardous areas. Forest owners and farmers are required by law to ensure that anyone working on their land is doing it in a safe manner. The landowner will specify safe practices which are to be followed on each piece of land entered to extract biomass, these must be followed.
The forest sector has set out guidelines for safe operation in forests in the Safetree website. This website is a one-stop-shop providing health and safety information for the plantation forest industry. By being accredited, Accredited Wood Fuel Suppliers support a safe, sustainable and professional forestry sector, in partnership with workers, industry and government. All aggregators of biomass for fuel should adopt the same best practices.
Worksafe guidelines are:
Biomass processing to produce fuel
Once sourced the biomass may require processing before it can be delivered as a specified fuel. The processing may occur at source or at a processing site. Regardless, each processing location should have a safety management plan.
Operating of equipment must be done in a safe manner. Accredited Wood Fuel Suppliers are required to have a Quality Management System which has been audited by a third party.
WorkSafe have a suite of guidelines for wood processing equipment which provides guidance to the safety measures which should be applied to wood fuel processing. Chipping and hogging of wood is not explicitly covered but guidance is provided for similar machinery.
Fuel storage and handling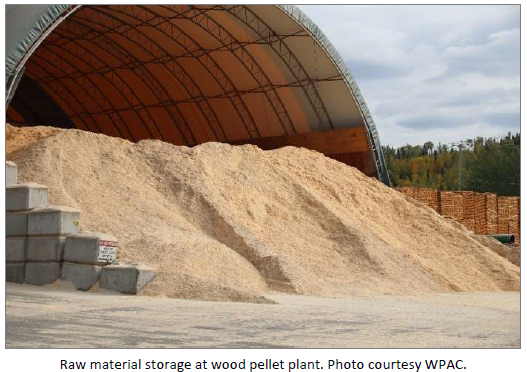 Biomass fuel is generally very safe to handle and store. The main risks are dust inhalation and spontaneous combustion. If a fuel store has doors which are opened to access or put in new fuel then care should be taken when opening the door that dust is not blown over the operator and inhaled. Dust control and mitigation standards and equipment are available. Spontaneous combustion of biomass fuel can occur if the fuel gets wet and the decomposing biomass heats up. This can occur to chip or pellets.
Guidelines for best practices for managing wood fibre storage and combustible dust are supported by risk analysis procedures.
See guidance for fighting fires in pellet silos and note the dangers of using CO2 to quench wood pellet silo fires.
Heat plant optimisation, maintenance and operation
Boilers use heat and water to produce steam. Other pressure equipment may be used in conjunction with a boiler, or separately. Best practice safety must be established for all operators, designers, manufacturers and suppliers of facility pressure equipment.
Boilers and other pressure equipment can be hazardous, particularly those used in industrial settings. Approved maintenance contractors should be used to deal with high pressure equipment to manage these particular hazards. The now old Approved code of practice of the design, safe operation, maintenance and servicing of boilers is still the relevant document applicable in New Zealand.
Worksafe recognised inspection parties for pressure vessels is listed here.
Successful plant operation requires that plant be professionally optimised and maintained. Plant optimisation is best done by specialists in wood fuelled plant operation as wood fuelled plant have quite different performance characteristics than coal plant. You should ensure that anyone optimising your plant has wood fuel combustion experience and understands how to get the best from wood fuelled plant according to the fuel being used. The Bioenergy Association recommends employing only Registered Wood Energy Advisers who have been third party vetted as having appropriate knowledge and experience,
The most common reason for poor wood fuelled plant performance is where the wood fuel being used is not the fuel the equipment was designed for, or has been set up to combust.
Members who specialise in plant optimisation and maintenance
Some of these organisations have branches nationwide - please check their website or the Bioenergy Facilities Directory to find their location.
Heat plant should only be operated by people who have been trained into their safety features. This includes relief operators.
Confined space work in New Zealand and Australia is covered by AS 2865 Confined spaces. Anyone who carries out confined space work needs to be familiar with the standard, and should have specialist training as well. A guide providing a brief overview of the requirements and procedures in the standard is Confined spaces: planning entry and working safely in a confined space.
Best practice