Technical Guide 01: Solid biofuel classification guidelines
This section of the website is restricted to financial members of the Bioenergy Association. To enter it, please enter your username and password in the boxes below. If you would like the system to store this information on your computer for future sessions then tick the 'Remember Me' box (and don't use log out).
Full versions of all Bioenergy Association documents are available free to Bioenergy Association Members.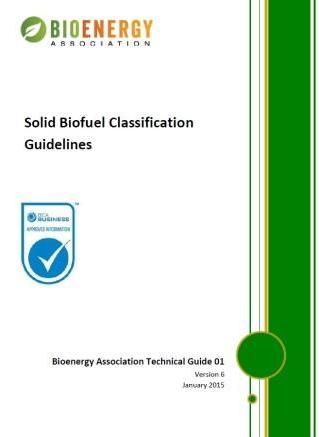 These guidelines for classification of solid biofuels were prepared to provide a common terminology and methodology for classifying, specifying and declaring the quality and properties of traded solid biofuel in New Zealand. In most cases it is expected that the traded fuel will be a wood fuel.
Proposed edits to Technical Guide 1
Please send your comments or reviews to the Executive Officer.
Section 10 Wood Pellet Fuel
Section 10 of Technical Guide 1 is being revised. The draft can be viewed in the following link - view draft Tech Guide 1 under review
Section 17 International standards
International wood fuel standards and classes - the new section under discussion can be viewed in the following link - view new Section 17
Certification that fuel meets the relevant standard
Within New Zealand and Australia the assurance that fuel you purchase meets the relevant standards occurs if you purchase from an Accredited Wood Fuel Supplier - An independent party has assured the Bioenergy Association that the pellets being sold for residential heating meet the standards claimed on the bag. Accreditation covers all aspects of the fuel supply business.
For wood pellet fuel there are also two international certification organisations which provide independent inspection and on-going monitoring of the supplier's pellet production and certifies that the pellets meet the relevant standards. These are DINPlus and ENplus. Both certifications are to the same base standard ISO 172225-2.
Sorry!
This document can only be viewed by Bioenergy Association members.
Please
log in
to view it:
---