Assessment of likely technology maturation pathways for biojet production from forest residues
This section of the website is restricted to financial members of the Bioenergy Association. To enter it, please enter your username and password in the boxes below. If you would like the system to store this information on your computer for future sessions then tick the 'Remember Me' box (and don't use log out).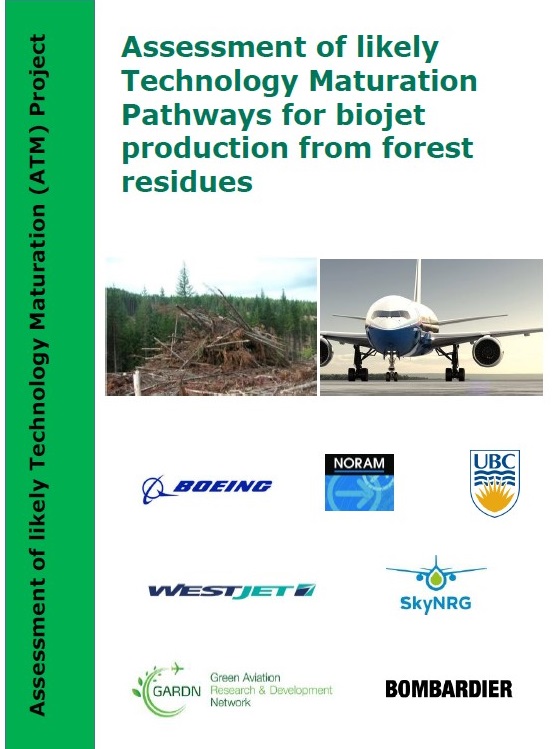 Limiting and reducing aviation greenhouse gas (GHG) emissions is a key objective of the aviation industry, who have adopted environmental targets to reduce GHG emissions with the achievement of carbon neutral growth from 2020 and reducing its carbon emissions by 50 per cent by 2050 compared to 2005 levels. Significant progress has been made to reduce emissions through greater fuel efficiency including engineering improvements, technology enhancements, and advanced operations (including efficiency improvements in air traffic management). These improvements will continue to play a major role towards the carbon emissions reduction target, however they are not sufficient in the context of growing air traffic. The use of biojet fuels1 are therefore critical to reach the targets.
While five biojet fuel production technologies have been approved by ASTM for use in aviation and more than 150,000 commercial flights have been using biojet fuels, only limited volumes of biojet fuels are currently produced on a regular basis, and only one dedicated biojet facility is in operation worldwide (World Energy, formerly AltAir Fuels, in Paramount, California). Virtually all of the commercial volumes of biojet fuels currently available are produced through the hydrogenation of lipids, including vegetable oils, tallow, used cooking oil, etc. These biofuels are known as HEFA-SPK biojet fuels (hydroprocessed esters and fatty acids synthetic paraffinic kerosene). Although this type of biofuel is the most available today due to the availability of feedstock and maturity level of the technology and process, there is a need for diversifying the feedstock base in order to develop value chains in different parts of the world. To produce sufficient volumes of biojet at low cost, which are able to meet or exceed industry/government emissions targets, feedstocks such as sustainably sourced biomass will have to be used. These feedstocks can include a variety of sources such as wood, including sawdust or forest residues, agricultural waste, etc. However, technologies that are able to use such feedstocks are still under development and have not reached commercial stage. To ensure the long-term supply of sustainable biojet fuels, technologies that are able to utilize these feedstocks have to be developed to commercial scale. This forms the rationale for the ATM Project, the Assessment of likely Technology Maturation pathways to produce biojet fuels from forest residues.
Based on work carried out within the International Energy Agency Bioenergy Task 39 on Liquid Biofuels (Karatzos et al. 2014), thermochemical technologies, based on gasification or liquefaction of biomass, have been identified as the most likely to produce high volumes of sustainable and competitive drop-in biofuels, including biojet.